How to: Tomato recipes
Emily, 3 years ago
8 min

read
A comment on one of my Instagram post sparked a conversation about tomatoes and how versatile they are. It got me thinking about how much I use tomatoes in cooking, so I thought I'd share 3 recipes with you all using tomatoes.
What do we actually know about tomatoes?
The tomato is thought to have begun its life in South and Central America. Used in a lot of Mexican cooking the tomato came over to Europe during the Spanish conquest of Mexico in the 15th Century and was introduced to other parts of Europe in the 16th Century, to remain one of the staples in our kitchens today.
Is a tomato a fruit or vegetable?
If you're talking botanicals, the tomato is a fruit, a berry, to be precise. Did you know that this is also true of peppers, cucumbers, green beans, aubergines, avocados, courgette and pumpkin! In the kitchen, the tomato is referred to a vegetable, mainly because of its much lower carb and sugar content than its fruit counterparts. There was even a legal case for its classification when the US introduced duty on all vegetables but not fruit. In 1893 the tomato was declared a vegetable due to it being eaten more commonly as a main than a dessert.
What are the health benefits of eating tomatoes?
Tomatoes provide you with a whole host of health benefits. Let's start with the vitamins packed in… You can get up to 40% of your daily recommended dose of vitamin C from a single tomato! They also contain vitamin A helping support your immune system, look after your vision and keep your skin in check. The vitamin K also found in tomatoes is great for looking after your bones, whilst the potassium maintains a healthy blood pressure as well as keeping your heart function ticking over nicely.
And if that wasn't enough to get you reaching for a tomato, they also contain the antioxidant lycopene, which has been linked to health benefits such as reducing the risk of heart disease, stroke, diabetes and cancer. The lycopene found in tomatoes is not only good for your eyes but combined with the lutein and beta-carotene lurking in the list of positive benefits protects against eye conditions such as cataracts and macular degeneration.
When you take into account their low carb and calorie content, I think you'll agree, tomatoes are a bit of a winner!
Tomato recipes
Tomatoes are so versatile whether you eat them raw or cooked, or even a mixture of both. There are so many different kinds, whether you are using tins of chopped or plum tomatoes, fresh, cherry, beef, on the vine, purée, passata, sun-dried… the list goes on. I have chosen three recipes using beef tomatoes, tinned tomatoes and on the vine tomatoes.
First up I've chosen Gazpacho. Some may turn their nose up at cold soup, but if you've not tried it, don't be a hater! This Spanish dish uses fresh ingredients make it a refreshing, light lunch or starter – perfect for a hot Summer's day. It is so easy to make so there's no standing over a hot stove or chopping lots of fussy ingredients. Pure and simple.
With this recipe you can use any tomatoes you like but my favourites are on the vine ripe tomatoes, but you can use any you like really, so long as they are ripe as these produce the best flavour. You'll need to scoop out the seeds and the core of the tomatoes so that the soup is smooth and silky.
How to make Gazpacho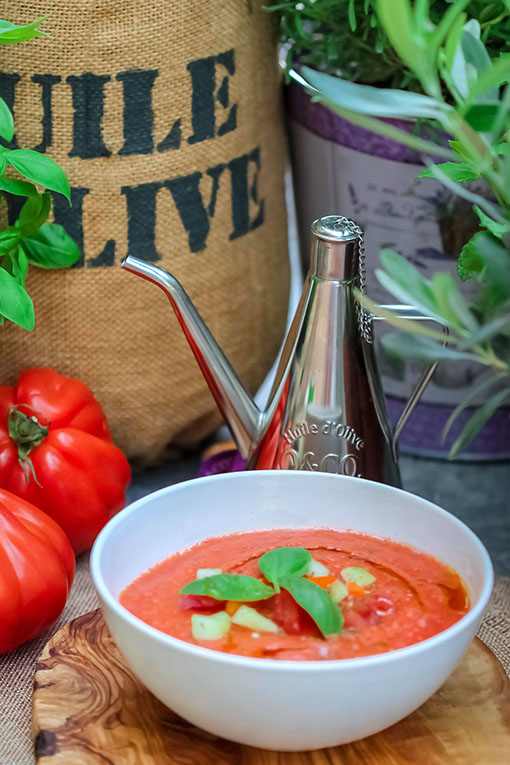 Ingredients
Serves 4 as a light lunch or 6 as a starter
1 kilo of ripe vine tomatoes de-seeded and cored, reserve some to garnish
1 small cucumber, peeled and de-seeded, reserve some for the garnish
1 green pepper, de-seeded and cored
½ small red onion or shallot
1 large garlic clove
3 tbsp olive oil
2 tbsp sherry vinegar, or you can use red wine vinegar
Sea salt and cracked black pepper to season
Basil to garnish
Method
Purée all the ingredients together in a food processor until it gets to the consistency you prefer.
Tip: I serve my Gazpacho thicker if I'm doing it as a lunch and thinner if I'm serving it as a starter.
Season with salt and pepper if needed. Cover and refrigerate until fully chilled.
Serve cold, topped with some cubes of cucumber and tomato and a sprig of Basil.
How to serve Gazpacho
As a light lunch I serve with my favourite crusty ciabatta, if you are serving it thinner and as a starter I serve it in a cocktail glass with a slice of cucumber on the side, a sprinkle of chilli flakes and a garnish of basil with a straw. Experiment and try out different ways of serving your Gazpacho and let me know what you come up with!
Next up we have Shakshuka. This North African vegetarian dish uses the simplest of ingredients that you are sure to have to hand. Enjoyed as a breakfast in Israel, I think this dish is a perfect healthy, yet filling brunch served with warm pitta bread.
If you're watching the waistline, use Fry Light and serve with wholemeal pitta bread. If you're on Slimming World you can use your HEB for the pitta and the rest is free!
What's more is that it's not only an inexpensive meal but you can save on the washing up too, using just one pan – you can't get more perfect than that!
The dish is very versatile and can be adjusted to your taste topped with some cheese, feta or mozzarella sprinkled on top goes well or extra spices and chillies popular additions across the Middle East and Africa, you can really dress it up however you like. I am going to give you the basic recipe and then you can do your own thing to make it your own.
How to make Shakshuka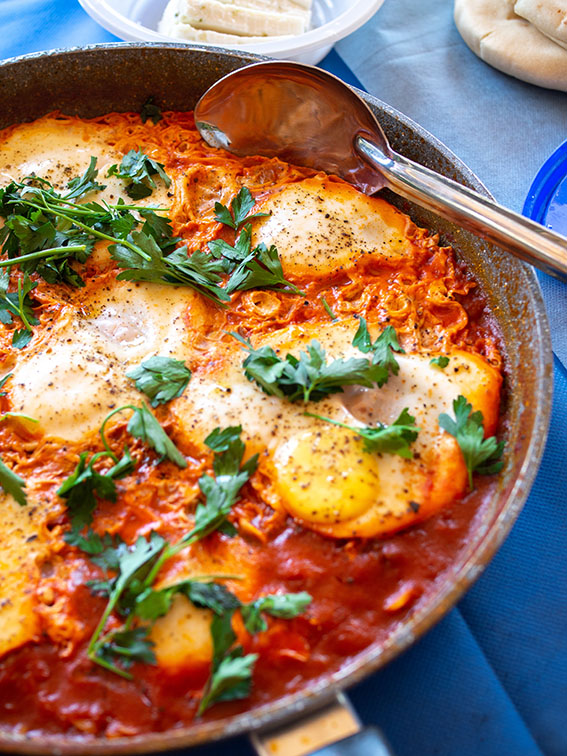 Ingredients
Serves 4
1 tbsp olive oil or a few sprays of Fry Light
1 large onion, thinly sliced
1 large red pepper, de-seeded and thinly sliced
2 garlic cloves minced (or cheat and use 2 tsp Easy Garlic)
1 tsp ground cumin
1 tsp paprika
1/2 tsp cayenne pepper
400g tin chopped tomatoes
Salt and pepper to taste
4 large eggs
Small bunch chopped coriander to serve
Method
Heat the oil in a large pan over a medium heat. Add the onions and pepper and cook for about 20 minutes until soft.
Add the garlic and cook for about 30 seconds and then stir in the cumin, paprika and cayenne pepper, and cook for 1 minute.
Pour in tomatoes and season with salt and pepper. Simmer for 10 minutes until the tomatoes have thickened, about 10 minutes.
Make 4 dips in the sauce with the back of a spoon and gently crack an egg into each one and season with salt and pepper. Place a lid over the pan and cook for 6-8 minutes until the eggs are set.
Serve with chopped coriander sprinkled over the top and some warm pitta breads.
My final recipe is the simplest recipe of all time – Caprese salad. Even my youngest could make this, but I had to include it as it is one of my all-time favourites!
The Caprese salad originated in the 1950s in the Isle of Capri, Italy and traditionally, was made up of cow's milk mozzarella, tomatoes, and olive oil garnished with oregano and arugula (similar to rocket). Today basil is often used as the main herb in this dish.
The arrangement of a Caprese salad is very important. The green of the basil, the white of the mozzarella and the red of the tomato represent the Italian flag and are arranged as such, which makes this dish iconic.
I have simplified this recipe and removed the olive oil in favour of balsamic vinegar to give it that zing and cut down on the calories. You can also use lighter mozzarella if you're really counting!
Although I am going to give you the most basic of recipes in this blog, you can add so many things to this dish to give it your own little twist. I add ingredients such as red onion, rocket, avocado, grilled chicken or serve on a bed of pasta with a drizzle of extra virgin olive oil or a chunk of ciabatta.
However, let's go back to basics and get the core recipe underway…
How to make a Caprese salad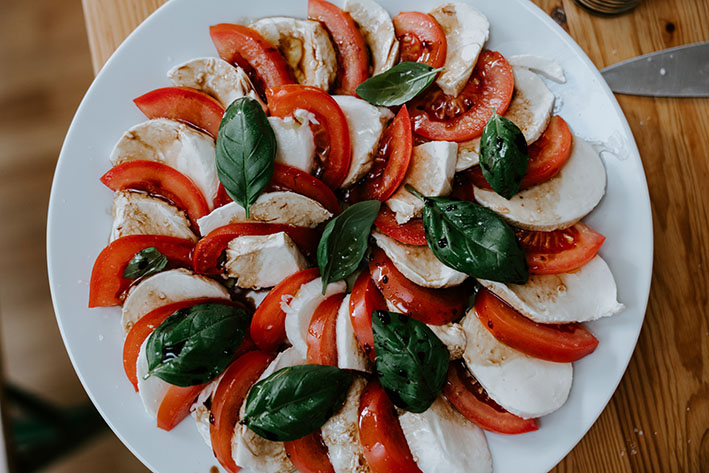 Ingredients
Serves 4
600g ripe beef tomatoes cored – you can use other tomatoes but I think these are the best. Just make sure whatever you go for, they're ripe.
250g buffalo mozzarella
Small bunch of basil. Try using the smaller leaves as they tend to be sweeter.
Balsamic glaze or a good balsamic vinegar
Method
Cut the tomatoes into 1cm slices
Cut the Mozzarella into 1cm slices
Garnish with Basil leaves
Drizzle with balsamic vinegar or glaze
So, we have gone from Spain to North Africa and over to Italy for our three very different recipes, but all using the trusty tomato. There are so many more dishes that use this versatile fruit with an identity crisis, but I think you'll agree, it's an all-round favourite. Let me know what your favourite tomato dishes are.
Related posts
Meet Emily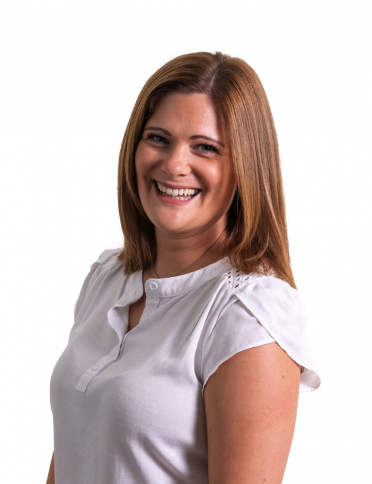 Hurtling in to my 40's this is me sharing my life through a passion for food and drink... especially gin! Previously, I am Emily was a thriving design and marketing business that was merged with Creed Marketing in 2019 – not wanting to let go of a 10 year following the brand has edged in to the world of blogging. Follow my journey at iamemilyuk.